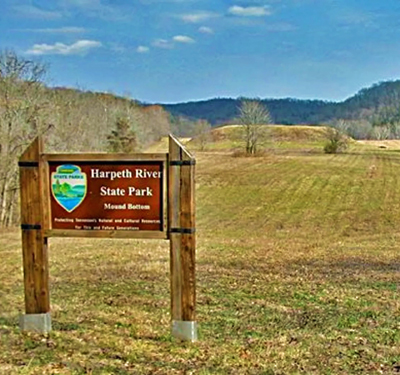 Join us for a hike! Click here to register.
On Saturday, April 15, Belmonters will gather at 10:30am for a hike at Harpeth River State Park. We will participate in a private hike to Mound Bottom led by a park guide. In addition to discussing site form and function, we will also discuss who these people were, where they came from, how they lived, and the reasons for the eventual abandonment of the site. This is a great opportunity to learn who the land of the Middle Tennessee basin belonged to before colonization. This hike is a follow up to information we began exploring when Cherokee activist Albert Bender joined us for our Stories of the Land program.
Be prepared for a 1.5 mile hike to the site on a woodland trail. Consider bringing bug spray, water, and/or sunscreen.
We will meet in the parking lot located at 1007 Cedar Hill Road, Kingston Springs TN, 37082 (corner of Hwy 70 and Cedar Hill Road).
For those who would like to dine togther afterwards, there are restaurants nearby. Please contact Pastor Kate with questions about this event. This event is free, but registeration is required by Wednesday, April 12. Click here to register. For questions, contact Pastor Kate.