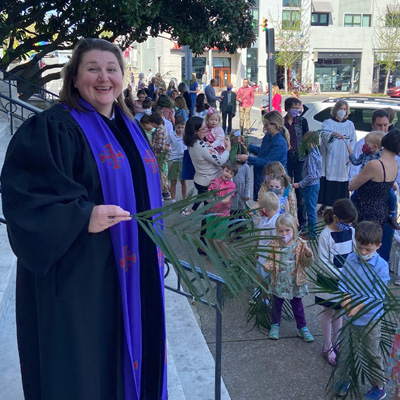 Sunday, April 2, is Palm Sunday and Belmont UMC's children will welcome Jesus with a parade. They will let Hillsboro Village and the congregation know that Jesus is coming through singing and waving of palm branches.

Children's choirs will gather at 10:00am on the second floor to robe and warm up, and then we will gather under the tent outside at 10:20am to receive palm branches. Children who are not in choir and parents, grandparents, and babies in strollers are welcome to join in the celebration. We will begin our palm parade down the sidewalk, around the church and up the front stairs of the church. If an accessible entrance is needed for wheelchairs or strollers, families may stop on 21st Avenue enter the side door, and join us at the back of church in order to process.
Once the children process down the center aisle, those who are not singing may sit with their parents, and the combined children's choirs will sing. Following the song, choir members will join their families.
Invite your friends and neighbors to join us. Jesus is coming!
For more information, contact Amy Cooper.