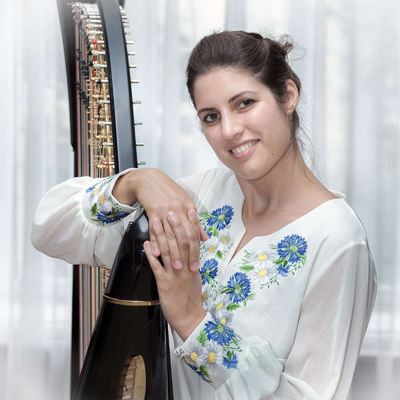 On Sunday, June 18, at 6:00pm, make plans to join us in the sanctuary for a harp concert featuring Ukrainian harpist Veronika Lemishenko. Veronika will perform music based on the traditional music of Ukraine. She is visiting Tennessee, hosted by The Harp School, Inc. Artistic Director Carol McClure, raising money for The Veronika Lemishenko Charitable Foundation that provides financial assistance to volunteer organizations, medical institutions, animal shelters in Kharkiv, Ukraine and other Ukrainian cities, as well as targeted assistance to Ukrainian victims of the war. A love offering will be collected after the concert to help the people of Ukraine.

Artistic director of the 'Glowing Harp' competition and festival (Kharkiv, Ukraine), co-founder of the Veronika Lemishenko Charity Foundation and member of the Board of Directors of the World Harp Congress, Veronika was a prize-winner at international harp festivals in Wales, France, Spain, Ukraine, Czech Republic, Bulgaria, Russia, Greece and Singapore and has performed in international musical festivals in La Folle Journee, Camac Festival (France), Harp Masters Festspiele (Switzerland), and Lisboa Harp Seminar (Portugal).

We hope you can attend this concert to show support for the people of Ukraine and enjoy an evening of Ukrainian music with a world renowned harpist.