Upcoming Events
Upcoming events at Belmont UMC
Click here to view the full church calendar.

Click here to subscribe to our electronic mailing list for email updates and news!
__________________________________________________________________

Upcoming events as of Friday, July 29:
Joys and concerns


Christian sympathy is extended to

Catherine Moore in the death of her husband, Henry Moore.

Julia and Jerry Park in the death of Julia's mother, Jean Tompkins.
Our Pentecost worship series, "Living on the Edge," continues this Sunday, July 31. Read more...

The
continuing news of violence, division, and racial unrest in our world are troubling
. Our hearts are wounded and broken and we long for a way to express our deepest feelings and prayers to God. This Sunday,
July 31
, we invite you to
add your prayers and concerns
to the prayer wall in the foyer. Read
more
...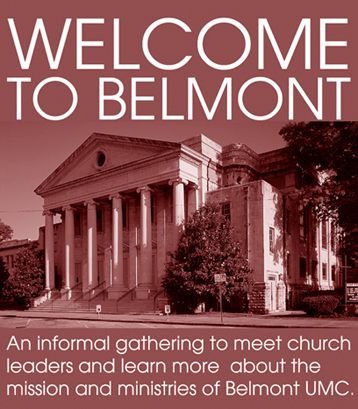 On Sunday, July 31, visitors are invited to a special session of Welcome to Belmont Iris Room immediately following the 10:30 a.m. worship service. Read more...



NEXT WEEK, AUGUST 1 - 7


August is Gifts that Change the World month at Belmont UMC. During the month, we tell the stories of how our gifts beyond the local church (we call these "apportionments") are used to make a difference. Read more...

If you are you a caregiver, family member, or friend of someone with Alzheimer's or other memory loss, we invite you to join us on Monday, August 1, at 7:00 p.m. in the Iris Room, for a time of learning, fellowship, and care. Read more...




August 1-15, Belmont UMC's United Methodist Women (UMW) are partnering with Edgehill's UMW to collect items for the Free Store. Read more...

The Communion offering on August 7 will support conference askings for Beersheba Springs Assembly and Cedar Crest Camp, two centers owned and operated by The Tennessee Annual Conference of the United Methodist Church. Read more...
We are about 1/3 way to our goal for supplies for 300 health kits. Please bring your donations and place in the baskets in the narthex or foyer no later than Sunday, August 7.  Read more..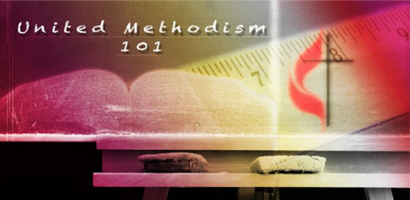 On four Sundays in August (7, 14, 21, 28), Ken Edwards, Heather Harriss, and Jefferson Furtado will lead United Methodism 101 in the Iris Room at 9:15 a.m. Come and learn more about the church, our history (why we are called Methodists), our beliefs and distinctives, our worship and sacraments.  Read more...




During the month of August, families are invited to be part of an intergenerational Sunday school experience from 9:15-10:15 a.m. On August 7, the Kairos and Journey Sunday school classes are hosting family Sunday school classes. Read more...

The 2nd Thursday Book Group is discussing Krista Tippett's new book, Becoming Wise: An Inquiry into the Mystery and Art of Living. Join us August 11 at 10:00 in the Iris Room. We will be discussing chapters one and two. Read more...




Yes, that's right, the Pops Concert is back! Put Wednesday, August 17, on your calendar. That evening, we will kick-off our mid-week programming with a concert of popular music performed by some of Belmont UMC's talent. Read more...

Space is limited for the next senior adult Mystery Lunch on Thursday, August 18, so sign up today! Read more...

The J. G. Bowman Scholarship Committee, which is under the church's board of trustees, has announced that the annual scholarship deadline for this year's award will be Sunday, August 21. Read more...




Covenant, an in-depth group Bible Study in which participants read and discuss the Bible together, learning how to love God - and each other - better, will be offered at Belmont UMC beginning September 14 and will be led by David Teel and Ken Edwards. Read more...




Save the date for the 2016 All-Church Retreat, September 23-25! Vanderbilt University Divinity School's Dean Emilie M. Townes will be our retreat leader. Read more...

Have you ever wondered how our beautiful altar flowers appear every Sunday morning? The flowers are given to the glory of God by members who want to give thanks in memory or in honor of a person, event, or special blessing and we have some open dates. Read more...




We need teachers for 3-year-olds, 4-year-olds, 5K, 1st grade, 2nd grade, 4th grade, and 5th and 6th grades. We will provide you with support and an easy-to-use curriculum. Join in the joy of teaching children! Read more...




Now is the time (yes, really!) to consider what small group or Sunday school study your class will want to follow through Advent 2016. New studies are available. Read more...

Are you using our online church directory, Access ACS? If not, you're missing out!  And, for even greater convenience, download the Church Life app for your Apple or Android smartphone and have Belmonter contact info at your fingertips! Read more...